STAY SAFE IN CROATIA
Safe stay in Croatia is a national designation of security protocols in tourism and hospitality that was initiated in 2021. It is awarded to stakeholders in the tourism sector by the Ministry of Tourism and Sports.
CROATIA CHARTER FLEET is assigned with the safety marks of the World Travel and Tourism Council (WTTC) Safe Travels and the national safety sign Safe Stay in Croatia, guaranteeing that we apply safety Protocols for a safe stay in Croatia to our yacht charter guests.
Croatia was the only country in the EU which welcomed Americans and other non-EU citizens for a while last summer. Even though not many travelled, those that did appreciated the gesture. There was some great promotion to Americans back home, as ABC News came to Dubrovnik last summer to film Americans travelling during the pandemic. The 6 features included one on Good Morning America, which showcased the beauty of Dubrovnik to more than 12.5 million Americans.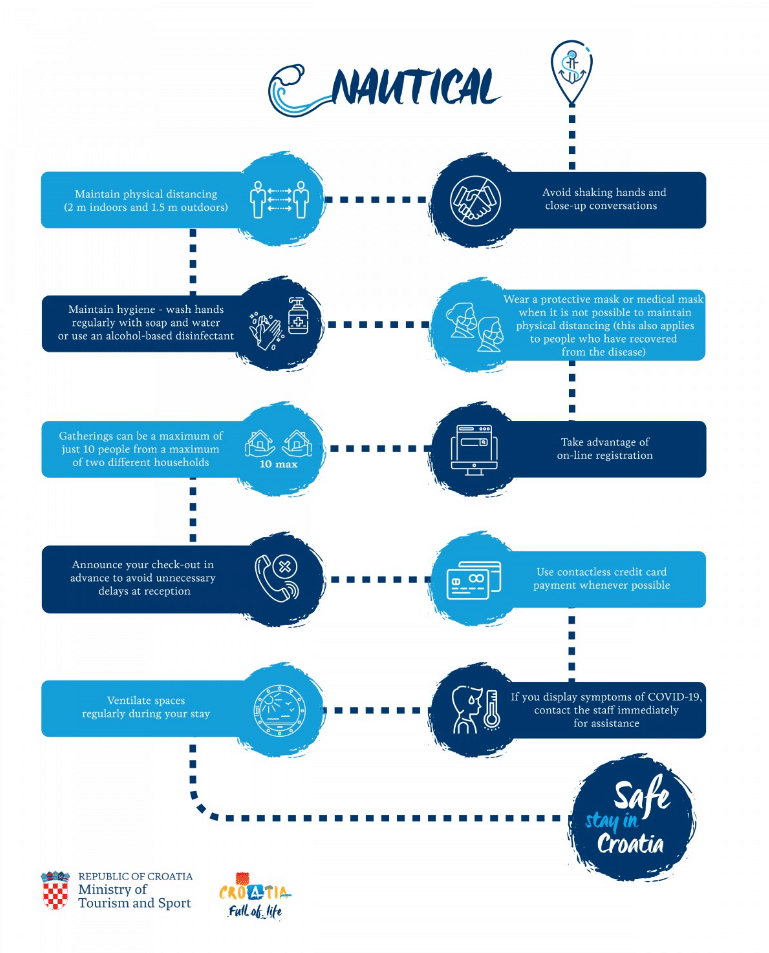 The latest about covid-19 in Croatia. What are the restriction , do you need PCR test , where u can get PCR test
Sailing and Covid-19 : Are the borders open?
Yes !
Do you need negative PCR test not older then 48h?
Yes!
Can you enter Croatia without PCR test, with a certificate holder has recoverd from Covid-19 up to 180 days old?
Yes!
Can you enter Croatia without PCR test if I received a second dose of vaccine more than 14 days ago?
Yes!
Can European citizens travel in Croatia?
Yes!
Can English citizens travel in Croatia?
Yes!
Can Americans citizens travel in Croatia?
Yes!
What are the restriction?
Mask indoors, 1,5 / 5  m/ft distance
Where can I get tested for COVID-19 in Croatia?
Contact Us and we are send you information where the closest and fastest possible testing is near you
The original hardcopy of the Covid-19 negative PCR test not older then 48 hours. You can bring your test make test in Croatia and be in isolation until you recivede test, probaly less then 24 hours i has to be submitted to the local authority. A few processes of scanning and verifying will take place, and then your trip will begin. If you dont do test you need to be in isolation 10 days.
Fill out a very simple form with information about the address of your stay, mobile phone number and email, and you will have a "fast line" and a simpler and faster administration at the entrance.
More about  CHARTER CANCELLATION IN COVID RESTRICTION 
Where i can fill up all nessery documents for entrance?
Where i can read official web pages?