Dubrovnik Croatia
We are presenting the fascinating story about the Pearl of the Adriatic – Dubrovnik, which is included in the World Heritage List from UNESCO in 1979. It is located in the southern part of Croatia, close to the border of Montenegro and Bosnia, making it a great base to explore these nearby regions as well.
Facing the Adriatic Sea and encircled by huge stone walls, Dubrovnik is one of the most popular destinations to visit in Croatia that you need to experience! Whether you want to spend your time wandering its well-preserved historic old town, or you want to relax by the beach, or you want to rent a boat in Dubrovnik, there is something for everyone.
Dubrovnik's Old Town is well-preserved and there is something new and exciting to check out around every corner. There are a handful of different palaces that you can explore. You can also escape the heat and crowds in a variety of different museums and churches.
Most popular street in Dubrovnik is Stradun, it runs more than 300 meters through the heart of the Old Town. Along this main street you'll find plenty of small shops, restaurants, and cafes.
You can climb to the city walls and encircle the entire Old Town and get some of the best views of the city in the process. From the top, you will be rewarded with sweeping panoramic views of the Old Town and Dubrovnik's harbor.
Any Game of Thrones fans should know by now that King's Landing, or Dubrovnik is one of the main filming locations used in the television series.
There are various filming locations throughout the Old Town that you can access on your own. However, you can also take a Game of Thrones guided walking tour.

Behind the city walls in Dubrovnik, you'll notice a hill. That is Srd, from the top of Srd you can enjoy jaw-dropping panoramic views of the city down below and the surrounding harbor. On a clear day you can see up to 60 km away!
You have a few different options if you want to get to the top. The best way to get to the top of hill Srd is by taking the famous Dubrovnik cable car. This cable car was built back in 1969 and you can enjoy incredible views all the way up to the top.
The sunset from the top is incredible. It's something you don't want to miss when you're visiting Dubrovnik!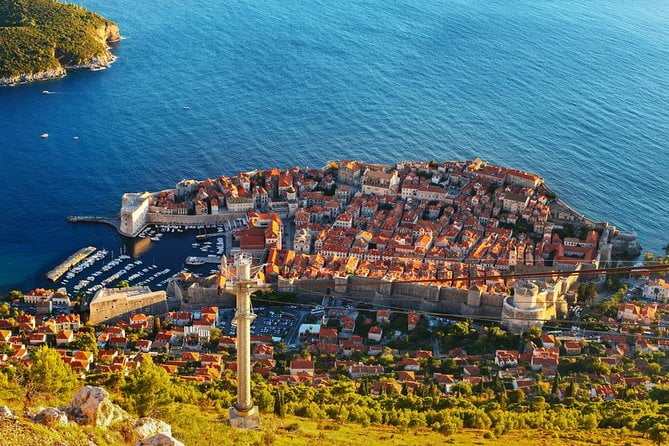 There are flights to Dubrovnik from destinations across Europe, try to book in advance if travelling in the summer as they can get expensive due to high demand. Dubrovnik Airport is the third busiest in Croatia. But of course, it does make for quick access to the city if you're not already in Croatia.
In cooperation with our partner agency TUI Flights,  flights from UK to Dubrovnik, Pula and Split. Use the flights of our international partners from the world-famous travel agency TUI UK with over 180 destinations around the world. For TUI travel agency clients, we grant an additional up to 5% discount on charter yachts in Croatia and Greece.  Check all flights at  TUI UK.