Croatia Charter Fleet represents new arrival in our catamaran fleet Elba 45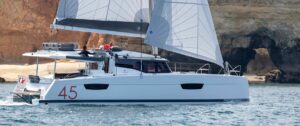 The Fountaine Pajot spirit is to face forward. The Elba 45 confirms in the most seductive way our taste for the avant-garde. This luxury catamaran is made to delight the eye and to take you by surprise. The energizing line of its inverted bows, the harmonious layout of its living quarters will mesmerize any enthusiastic yachtsman.
Dynamic and stylish, the helm of our new catamaran offers easy maneuverability and will delight you with its performance. A true cruising catamaran, traversed by a magnificent luminescence, you will feel aboard the Elba 45 just as comfortable as at home. With two new dedicated spaces in the saloon, you'll feel like you're in business class.
The Elba 45 is available in two versions. Maestro, with an Owner's suite and its ensuite bathroom, two double cabins, and two adjoining bathrooms. Quartet, with 4 double cabins, 1 cabin, and 5 bathrooms.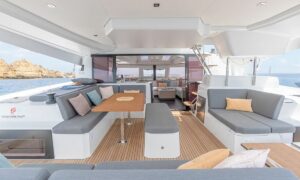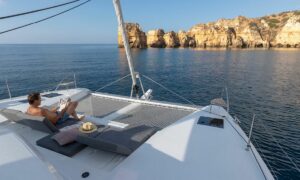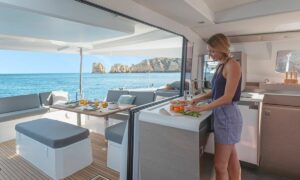 Main Features :

Length over all44.1 ft – 13,45 m

Beam over all24.8 ft – 7,55 m

Displacement unloaded14.0 T (approx.)

Draft3.9 ft – 1,20 m

Sail area807 ft² – 75 m²

Genoa area527 ft² – 49 m²

Standard Power2 x 50 HP – 2 x 50 CV

Option Power2 x 60 HP – 2 x 60 CV

ArchitectBerret-Racoupeau Design

Reservoir capacity

Fresh Water2 x 92 US Gallons – 2 x 350 l (approx.)

Fuel124 US Gallons – 470 l (approx.)

Versions

Maestro version1 owner's suite + 1 bathroom / 2 double cabins + 2 bathrooms

Quatuor version4 double cabins + 2 bathrooms