Even though small in size, Croatia has 8 national parks and 11 nature parks, which is not a small number for a country. The difference between the two is that it is strictly prohibited to use natural wealth for any kind economical purposes in national parks.
Here we will list all the national parks in Croatia that you can visit chartering a yacht with us: Mljet, Kornati, Krka, Brijuni. The other four are Plitvička jezera, Risnjak, Sjeverni Velebit and Paklenica, accessible by car with our concierge service.
If you have rented a sailing boat or a catamaran from Dubrovnik to Trogir and Split or in other one-way tour, then island Mljet is a place where you would want to spend a night and maybe even stay for a day or two. Located 24 NM from Dubrovnik, its north-west part was declared a national park in 1960. Berthing in Polače is recommendable and safe if you are eager to visit the park. Your second option is Pomena which is actually closer to the park but limited by only 20 berths or so, so arriving earlier at around 14:00 in peak season is advised. Maybe the most beautiful parts of the park are the two salt lakes called Big and Little lake. Kids enjoy being "dragged" by the slow current under the little bridge or rowing to the little island of St. Marija. This is the place for quality time with your kids, since it is one of the most beautiful parts of the Adriatic, according to experienced seamen. One more thing to mention is the fresh and quality fish which you have to try.
This archipelago was named after the Latin word for the crown – Corona. Consisted of many small bare islands, Kornati are poorly inhabited (the biggest village is Vrulje), but this makes them a perfect getaway from everyday rushed life. They were declared a national park in 1980, with yachtsmen making for more than 80% of the visitors. The easiest access is from Marina Kremik near Primošten, Vodice, Murter (7NM), Šibenik (15 NM), Biograd, Zadar.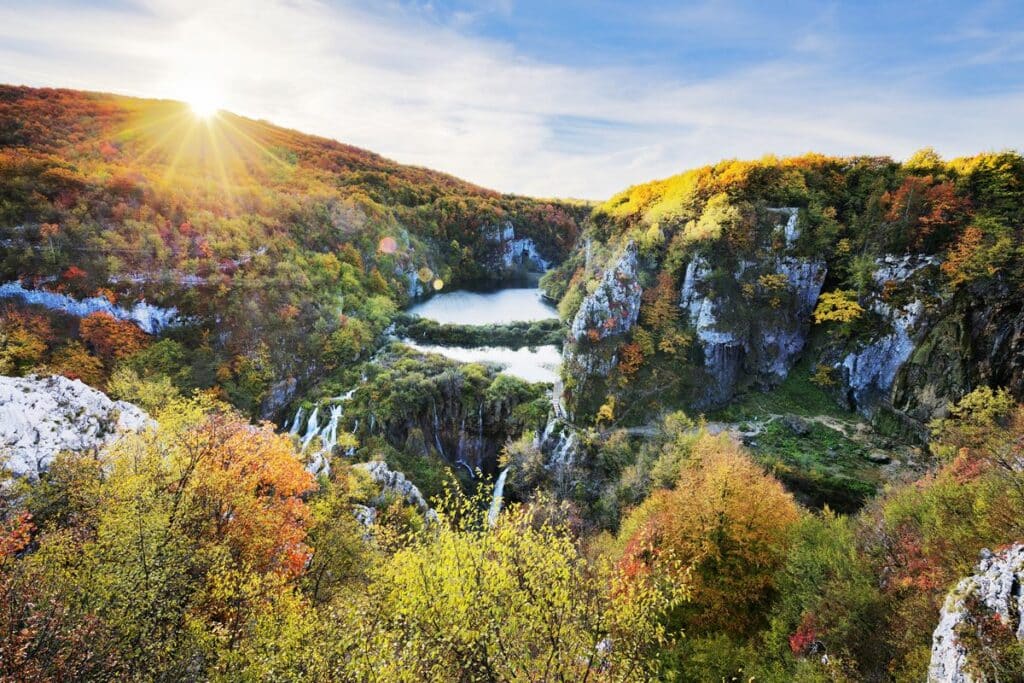 During hot long summer days, it is best to escape to Krka national park. It is recommended to tie your boat in ACI marina Skradin which is the closest to two main attractions of river Krka: Skradinski Buk and Roški waterfall. Organized boat rides are the best choice to visit them.
Don't miss taking a dip in the refreshing river (only in marked places), and visit the ruins of the first Croatian hydroelectric plant at Skradinski Buk.  Hydroelectric plant  "Krka" (later known as " Jaruga I ") was built and became operational on Aug 28th 1895., only two days a similar plant started working at Niagara. It is not mentioned enough that Šibenik was the first one to have electric public lighting in the world. Nikola Tesla was to thank for both hydroelectric plant projects.
The Island of Brijuni is situated in the north-west part of the Adriatic, and it is a bit more than 7 square kilometers in size. The favorable and mild climate made  Austrian industrialist Paul Kuplewieser build a fashionable resort and treatment center. In 1954, Brijuni becomes a favorite summer resort of the Yugoslav president Josip Broz Tito who cherished the island as an elite destination as many world dignitaries, actors, and celebrities from that period were his visitors.