ZAVRATNICA
Since 1964 is protected landscape this inlet has steep sides and is similar in it's appearance to a fjord, though it formed in a different manner.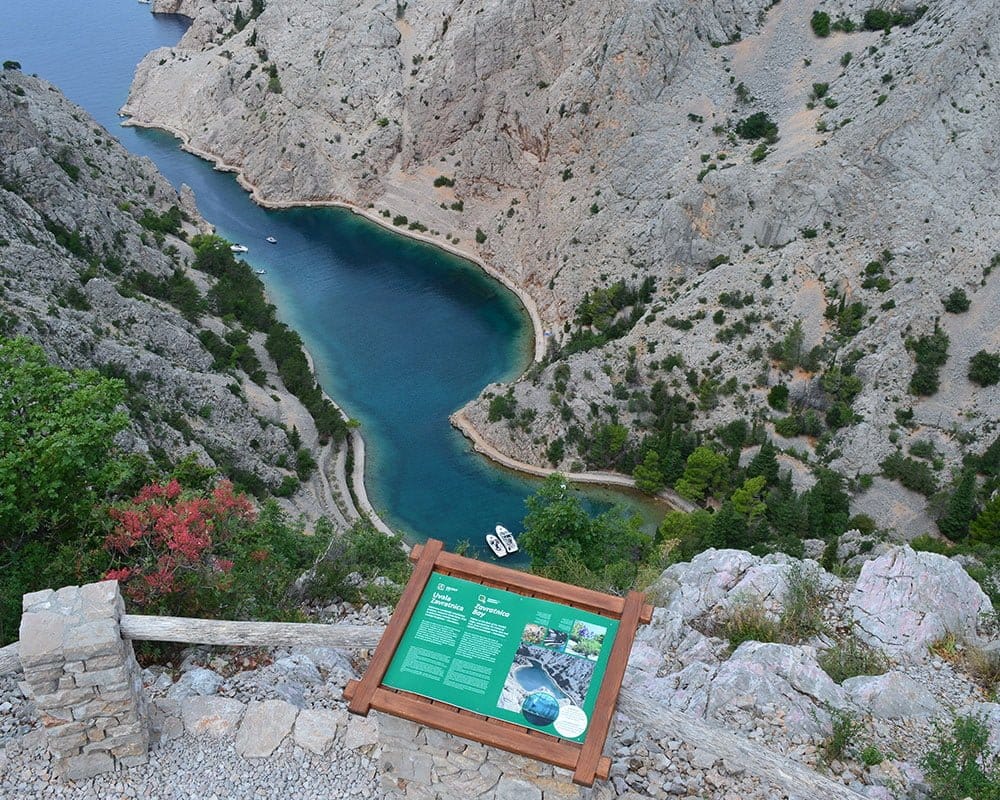 Zavratnica is the habitat of 129 plant species, of which 100 indigenous. At the beginning of 20th century a promenade and terrace in the center of the bay were built to prevent further deterioration. Because of the incredible visibility of the water, you can see the sunken ship clearly from the shore.7
GALEŠNJAK ISLAND
Look this island up on Google Maps and you will see a small heart shaped island located in Zadarski Kanal between town Zadar and the island Pasman, because of it's almost perfect heart shape it is also known as Lovers island. After it was spotted by Google Earth viewers it became a world-wide sensation.
WALLS OF STON
After the Great Wall of China they are the second longest preserved fortification wall on the planet. Ston is your destination, around an hour's drive from Dubrovnik, great destination for history lovers and gastro lovers.
As the largest construction venture outside the Republic of Dubrovnik they consist of walls of Ston and Mali Ston, the three fortresses, ten circular, tirty-one square towers and six semi-circular bastions. History lovers or anyone who loves beautiful scenery will not want to miss this adventure.
LASTOVO
Chartering a yacht in Croatia is one of the benefits because you can explore some of the more remote destinations along the coast which you would miss if you were on an organized tour which only hit the major spots. Lastovo is the best choice for those who want to spend a completely relaxing and peaceful holiday. The island and the archipelago are for those who wish to meet with untouched nature and it's most spectacular Mediterranean edition.
The sea is clear and sparkling as you can ever find, so make sure to take some time to enjoy the serene beaches, and consider staying in one of the most unique accommodations in all of Croatia-the Adriatic oldest lighthouse called Struga Lighthouse which contains four apartments suitable for two to five people.
BLUE CAVE
In the island Biševo near Vis you will find one of the most unique geological attraction in Croatia called Blue Cave. With it's silvery blue color, created by light refraction of sunlight entering through a crack in the stone, it leaves nobody indifferent. It can only reach by small boat, and once you arrive you need to dive in order to get inside.
The skipper will give you your entrance ticket for the cave and you are ready to move on. Entrance is really small so at the moment you will have to put your head down while sailor takes you inside. Unfortunately you cant stay inside too long and it is also not allowed to swim there but this experience will be a highlight of your holiday.
KORNATI ISLANDS
The Kornati archipelago has qualities that make it unique, it is made up of 140 islands and islets in an area only 35 kilometres long and 14 kilometres wide. The islands are riddled with cracks, caves, grottoes and rugged cliffs.
The biggest part of the Park is in fact it's main island Kornat and the entire archipelago named after it. The Kornati National park is opened through the whole year for visitors. George Bernard Shaw once said: "On the last day of Creation God desired to crown His work, and thus created the Kornati islands out of tears, stars and breath."