Team Building & Regattas:
Each and every organization understands that teamwork efficiency is the biggest challenge in the corporate world. It takes a lot of effort to create proper conditions for team to grow, cooperate and teach employees to work as a team. Fortunately, there are activities like Regattas and other corporate sailing and team-building events that stimulate a sense of responsibility, creativity, leadership, and productivity in the employees. Plus, while sailing people learn new skills, importance of communication and there is a lot of fun involved.
Sailing is among the popular team building activities. And teamwork is one of the most important skills that every employee needs to learn. So, when there is a fun way to teach your employees the value and importance of teamwork, why not to try it out. This way every lesson is easier to learn when it's taught in a practical way. And there sailing team building programs are designed with this specific goal.
How Yachting Helps Promote Team-Building
How can yachting promote team building? There are several ways that yachting can help with your team-building needs, and we'll be on hand to help you learn more about the most appropriate solutions for your endeavors.
So, how can yachting help promote team-building? Some of the most notable benefits of yachting as a team-building exercise include the following points.
#1 Yachting Develops Communication Skills
One of the key skills that people learn through yachting that can support team-building is communication. Indeed, effective communication is vital for a successful team in any scenario, and during yachting, it's also crucial.
To effectively and safely manage the yacht, participants will need to communicate clearly, calmly, and effectively with one another; furthermore, it's also crucial that communication is used carefully to ensure suitable navigation and that every team member on the yacht understands the decisions being made and the like.
Interpersonal skills are always crucial, and the communication skills that are developed during yachting can lend themselves effectively to many other fields, too, such as in a commercial setting.
#2 Your Team Will Foster a Healthy Approach to Competition Through Yachting
Competition can be incredibly valuable – but the wrong approach to competition can also be damaging for team-building, with individuals competing unhealthily to outdo one another. However, through yachting, your team will learn to develop a fair and healthy sense of competition, striving to be the best versions of themselves while also working to their unique abilities.
During a yachting experience, your team members will compete with one another to complete tasks successfully while also learning to support those who are struggling. In doing so, this not only allows your team to develop a healthy approach to inter-team competition. This, in turn, will lead them to pursue new heights, but it will also allow them to develop skills to recognize when another team member needs help to achieve the same results.
A little competition is always fun, but it needs to be carried out safely and fairly without discrimination to see good results. A yachting experience can help to foster this, be it through races or simply through competing to achieve the best success possible.
#3 Yachting Instils a Sense of Togetherness in Your Team
When your team goes yachting, you'll begin to instill a sense of togetherness between them. Indeed, yachting is an intimidating experience for many people; there's no doubt of that. However, when your team comes together to learn how to maneuver a yacht together, they'll form new bonds that are unlike any other.
Indeed, a crucial part of team-building is simply to get along with your team members. Sharing such a magical (yet somewhat daunting) experience as yachting can be an excellent way to go about this while developing memories that will last a lifetime.
This sense of togetherness is something that will also come in valuable back in the "normal" team setting, too, helping your team collaborate more effectively together rather than tending to work individually.
#4 Yachting Creates an Inclusive Environment
A further benefit that we have to mention about the power of yachting for team building is that it is a highly effective way to create an inclusive environment. Indeed, yachting requires a wide array of different skills and gives all members involved the chance to demonstrate or develop skills. In this manner, yachting is a highly inclusive environment that all team members are able to get involved with and contribute to.
As a result, all team members will feel involved and valued throughout the process, which increases their engagement with the experience. Furthermore, by offering team-building exercises and opportunities for your team members while yachting, you are able to ensure that they develop skills that will genuinely offer value back in their standard careers or roles.
The inclusive environment is a crucial aspect of yachting and ensures that the experience is enjoyable and memorable for all individuals involved. The skills developed during this experience will help your team implement inclusivity for all team members back in an office environment, too. As such, it's a highly valuable feature of yachting that makes it so important in many applications – and you may wish to consider this for your team's development as a result.
#5 It Helps Your Team Learn More About Each Other
As a final benefit of yachting for team-building, it offers an excellent opportunity for your team members to learn more about one another. Through learning about each other's skills, likes, dislikes, and so on, yachting can help to develop a stronger team connection.
This, in turn, can be an effective way to ensure that all team members are capable of working together closely with one another while also making sure that everyone knows where their coworkers' strengths and weaknesses lie – allowing for more suitable delegation of tasks in the workplace.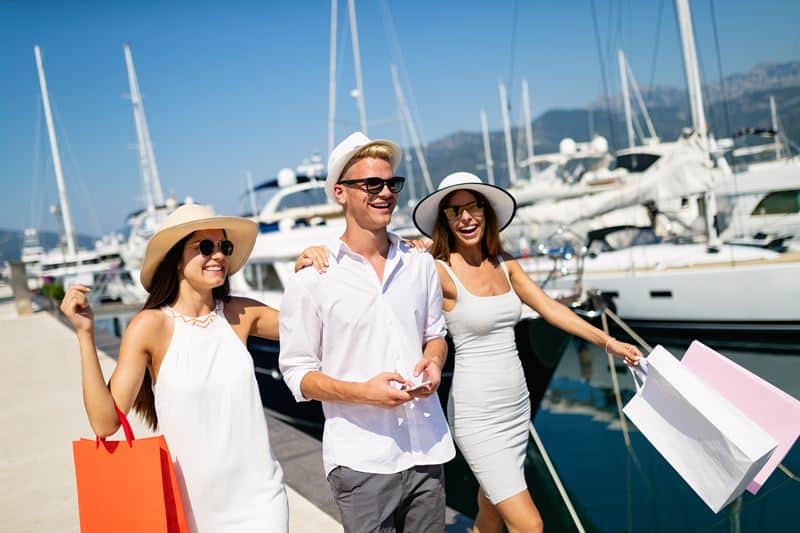 Let Us Help You Find the Best Yachting Solutions
We've outlined how yachting can offer many boosts for team-building experiences – and, if you would like to find out more about the benefits of yachting, how to hire a yacht rental, or our additional services (such as skippers and hostesses on-board), please don't hesitate to reach out to our team.
We'll be here to help with all of your yachting needs, and our friendly and experienced team are proud to be your number one choice for sailing and yachting solutions in and around Croatia. So, why choose anyone else? Contact us today to find the ideal yachting solutions for you. We've got over 300 stunning yachts for you to choose from, with flexible booking options; that's why you can be confident in the best services possible when you choose our team.